Golf In Spain: An Essential Guide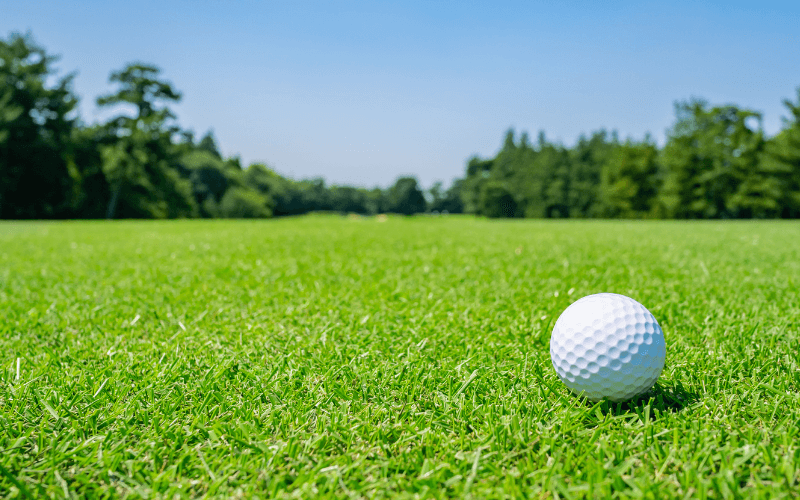 Boasting around 400 great golf courses, hundreds of blue flag sandy beaches and consistently offering over 300 days of sunshine each year, it's easy to see why Spain is such a popular destination for golfers.
If you've ever thought of playing golf in Spain, you're not alone. Each year, more than 1.2 million people visit the country while taking the opportunity to play some of Europe's finest golf courses.
Established in 1997, Golf Breaks In Spain are one of the longest established and licensed golf tour operators in the country. Since this time, we have had the pleasure of arranging golf holidays for many thousands of golfers.
As a result, we know exactly which features the vast majority of golfers are looking for in their Spanish golf holiday.
In this essential guide to playing golf in Spain, we will share some of our best tips and advice on how to plan, book and enjoy your golf holiday here in the Spanish sun.
You will find out about:
Updated Covid-19 guidance for those visiting Spain
The best time of year to play
What you need to know about green fees and tee times
Information on handicaps
The dress code for Spanish courses
Our top tips on playing golf in Spain
Money-saving tips
And lots more.
Let's tee off and find out more!
Covid Guidelines for 2021
Like other European neighbours, Spain's tourism industry has been hit hard by the Coronavirus pandemic.
Fortunately, with the vaccine programs rolling out across Europe, there is finally light at the end of the tunnel for those looking to play some golf in Spain.
The golf courses in Spain have been very organised and clear in their instructions to all visiting golfers to allow them to stay safe while playing golf.
Below we list some of the main guidelines currently in place.
Buggies will be disinfected before and after use by the staff members. This also applies to electric and pull trolleys.

Players must avoid physical contact with each other including shaking hands. All staff members are equipped with personal protective equipment including masks, gloves and hand sanitiser.

Bunkers must be repaired by the player the best they can, however, this cannot be done using the rake. You should only use your foot or golf club.

Flags are to remain in place. They must not be removed.

Fourball matches will be allowed, however social distancing must be respected at all times throughout the round. Max 4 people at any tee.

Players must arrive for their round already equipped and ready to play as no changing room facilities will be available.

A two-meter distance must be maintained at all times.

Players must not touch the ball washers or water fountains.

Protective barriers and hand sanitisers will be installed for golfers to use in the pro-shop and other areas.

Buggy bars will be available on most courses, with many restaurants also now open.
It's safe to presume that many of these precautions will slowly be lifted as the pandemic eases and more people are vaccinated against the virus.
For your peace of mind, the Spanish government has also now implemented a "Tourist Covid Insurance Cover" for any golfers wanting to travel to play golf here in Andalucia. You can read more about that here.
What's the best time of year to play golf in Spain?
One of the first considerations to make before booking your golf holiday in Spain is the time of year you want to visit.
With over 3,000 sunshine hours each year, Spain is the obvious choice for those looking to take advantage of the weather and enjoy some outdoor pursuits.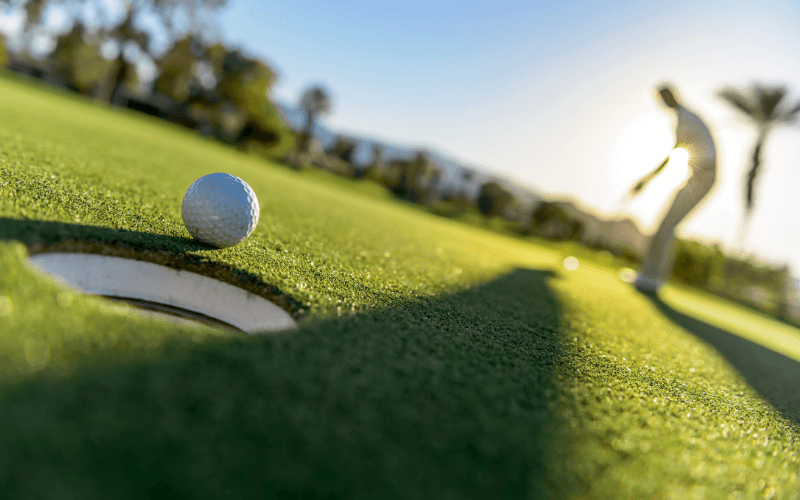 However, it's no secret that Spain can get extremely hot during the peak summer months with temperatures often in excess of 40c. 
This is why the vast majority of savvy golfers avoid Spain's hottest month's which are July and August.
As a rule, the main golf season in Spain runs from mid-February to early July. 
We then have a break between July and August to keep cool and resume again from September to late November.
Learn more about the weather in Spain.
Which region in Spain is best for golf?
To be fair, Spain has an abundance of fantastic golf courses. In fact, it doesn't matter which region you decide to play in, as each one will have a multitude of top quality golf courses for you to choose from.
At Golf Breaks In Spain, we can offer you the perfect golf holiday in the most popular golfing regions including the Costa del Sol, Costa Blanca, Murcia, the Balearics and the Canary Islands. 
We can even offer golf breaks in neighbouring Portugal and the golfers paradise of the Algarve, home to some of Europe's most famous courses including Quinta do Lago (North, South and Laranjal), Vale do Lobo and Monte Rei.
All of our packages include rounds at the local courses, however, if you want to arrange a round or two at another course, please contact us so we can obtain the best rates for you.
You can see all of our current golf offers via our golf holiday offers page.
Which Board Basis Should You Choose?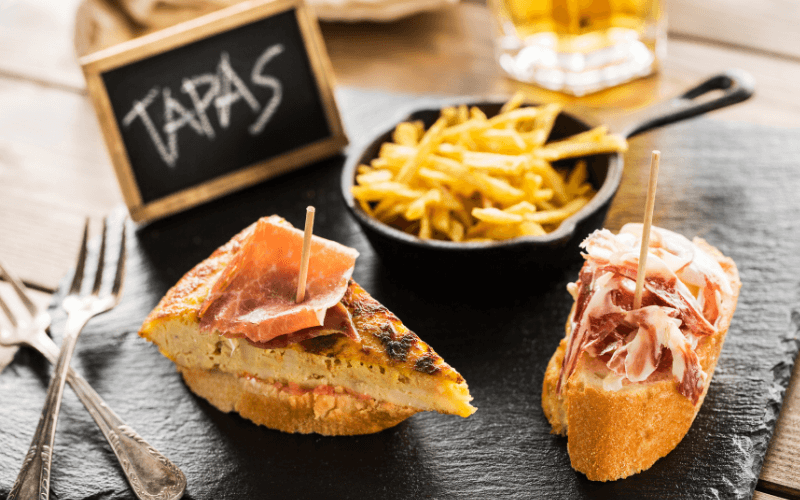 This is a tricky one and the answer will most definitely depend on what you want. We can cater for you either way with our packages offering a variety of different board options.
As a rule of thumb, you will have the choice of self-catering, bed and breakfast, half board, full board or the popular all-inclusive option where all of your meals, snacks and local beverages are included in the price.
Learn more about the benefits of an all-inclusive golf break. 
Some will prefer cooking for themselves, whereas others may prefer to eat out and enjoy experiencing the wide range of local and international dishes on offer. Eating out also gives you the opportunity to see more of the local area, immersing yourself in the Spanish culture.
Some packages offer half or full board with some people feeling this option provides them greater flexibility.
Take a moment to view all of our current golf holiday packages. 
Saving money on your golf holiday
Let's face it, we all love a bargain! And fortunately, there are multiple ways of keeping your golf holiday in Spain within your budget, without sacrificing the overall holiday experience.
In previous articles, we've offered numerous ways in which to save money on your golf break. For example, in one of our posts, we shared "9 easy ways to save money on your golf holiday in Spain", from renting your golf clubs with us (see further below), to eating like a local.
The best way to book your green fees and tee times
The advantage of booking your golf in Spain with us is that we can offer you the best rates on your green fees. This is because over the years, we have developed strong relationships with all of the best golf courses.
If you are looking to save money on your green fees, you may want to consider booking your tee times either later in the afternoon or at early morning twilight. It's not only cooler during these times but also cheaper. Double whammy!
Learn more about our bargain-busting green fees.
What should I wear and is there a dress code?
The good news is that there are very few strict rules on what you can wear when playing golf in Spain.
Trainers are a no-no. You will need to wear the correct golf shoes with soft spikes no metals spikes as below.
In most cases, shirts will need to have collars. Your favourite football team's shirt may not be accepted.
Tailored Shorts for men and no mini skirts for the ladies.
As long as you are sensible and look smart, in most cases, you shouldn't have anything to worry about.
Learn more about what you can wear by reading our previous article, What is the dress code when playing golf in Spain?
Will I need a handicap to play golf in Spain?
Fortunately, the requirement to produce a handicap certificate is not enforced on Spanish golf courses. However, if you do have one, it won't hurt to bring it with you. 
It is unlikely that you will be turned away from any course if you are unable to produce one. 
Read more about golf handicaps in Spain.
Should I bring my own golf clubs or hire them?
Don't you get tired of having to lug your golf clubs to and from the airport along with your main hold and carry on luggage? 
If you do, you might want to consider renting your clubs from us here at Golf Breaks In Spain.
With prices starting from just €15, you'll not only save up to £150 on airline sports baggage fees, you'll also save all that hassle and arrive in Spain without an aching back.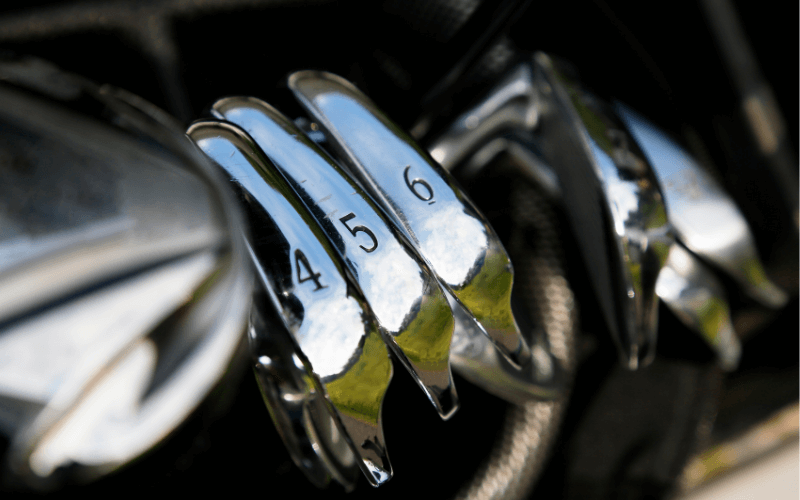 With a weekly rental cost of €30 and a fortnightly cost of only €50, you simply can't go wrong!
What's more, we can also deliver your clubs directly to you at either the hotel, airport or golf course. It's a no brainer!
Learn more about golf club hire. 
Getting around
So you may be thinking, "how will I get from the airport or to the golf course?". 
Don't worry, we've got you covered with our golf transfer services. There will be no more waiting around to be ferried to and from the course or the airport. 
We can pick you up from Alicante or Malaga Airport and transfer you directly to your accommodation, then transfer you each day to and from the golf courses.
No more waiting around at the course for a convoy of taxis to ferry your group back to your hotel. Our luxury minibuses are fully licensed and driven by our multilingual drivers.
Make sure your golf break in Spain is stress-free and as relaxing as possible. 
Pre-book all your golf transfers with us and you're good to go!
Find out more about golf transfers in Spain and our meet and greet service.
CONCLUSION
In this post, we have given you an overview of what to expect when booking a golf holiday in Spain.
We have provided you with some great tips and recommendations on how to save time, money and hassle to ensure that your golf trip with us will definitely be one to remember and not one to forget.
With the lifting of travel restrictions just around the corner, golf in Spain is going to be as popular as ever in the coming months. 
So make sure you book early and take advantage of our low-cost golf breaks in Spain for 2021 and beyond.