A Golfers Guide To Ronda, Costa del Sol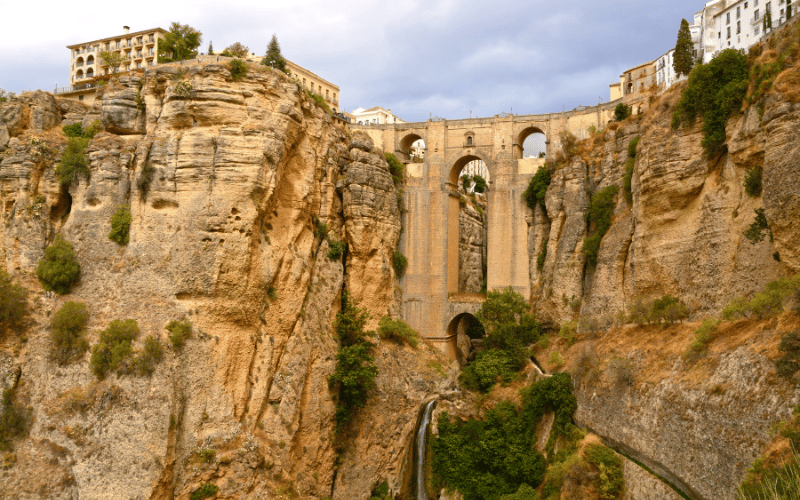 Embarking on a golf holiday in Spain is a golfer's dream, with the sun-drenched fairways of the Costa del Sol awaiting their skilled swings. Yet, amidst the pursuit of the perfect golf game, there lies an opportunity to venture beyond the greens and immerse oneself in the rich tapestry of Spanish culture. Enter Ronda, a captivating town nestled in the heart of Costa del Sol, offering an enchanting escape for golf enthusiasts seeking a day of cultural exploration.
In this golfer's guide, we unveil the allure of Ronda, a destination that beckons not just for its picturesque landscapes but also for its historical charm, culinary delights, and a blend of Moorish and Spanish influences. Join us as we tee off on the golf courses of Costa del Sol and, during the breaks, discover the hidden gems that make Ronda a must-visit for golfers with a penchant for culture and adventure. Let the journey begin!
The History of Ronda
Nestled amidst the rugged landscapes of Costa del Sol, Ronda stands as a testament to centuries of captivating history. As golfers take a break from the precision of the golf course, they find themselves immersed in a town with roots that reach deep into the annals of time.
Ronda's Beginnings: Founded by the Celts in the 6th century BC, Ronda's strategic location atop the El Tajo gorge attracted various civilizations. The Romans left their mark, but it was the Moors who shaped much of Ronda's character during their rule from the 8th to the 15th century.
The Arab Influence: Under Moorish rule, Ronda flourished as a cultural and economic centre. The architectural marvels such as the Arab Baths and the Mondragón Palace bear witness to this period, reflecting the sophistication and artistry of Islamic civilization.
The Reconquista and Beyond: The Reconquista in 1485 saw Ronda returning to Christian rule, yet the town retained its unique blend of Moorish and Christian influences. Over the centuries, Ronda became a haven for artists, writers, and intellectuals, drawn to its timeless beauty.
Hemingway's Ronda: The 20th century brought international fame to Ronda, thanks in part to the admiration of iconic writer Ernest Hemingway. His novel "For Whom the Bell Tolls" immortalised the town, casting it into the literary limelight and attracting travellers seeking the romance of its storied past.
As golfers explore Ronda, they walk in the footsteps of ancient civilisations, a journey that adds depth and context to the vibrant tapestry of this Spanish gem.
Things to do in Ronda
Below we list 10 things to do and see while visiting Ronda.
Puente Nuevo (Main Picture): This architectural marvel was completed in 1793 and connects the old and new parts of Ronda, spanning the El Tajo gorge. The bridge offers stunning panoramic views of the surrounding landscapes and is a perfect spot for photographers. Definitely Ronda's most popular spots to visit.
Plaza de Toros: Ronda's Plaza de Toros is one of the oldest bullrings in Spain, dating back to the 18th century. The bullring's museum not only showcases the history of bullfighting but also provides insights into Ronda's role in shaping this tradition.
Old Town (La Ciudad): La Ciudad is a charming maze of narrow streets, white-washed buildings, and historic squares. Exploring this area allows you to discover hidden gems like the Mondragón Palace and the Church of Santa María la Mayor.
Palacio de Mondragón: Originally a Moorish palace, the Palacio de Mondragón now houses the Ronda Museum. Visitors can admire the intricate architecture and explore the museum's collection, which spans from prehistoric times to the present.
Jardines de Cuenca: These landscaped gardens offer a serene escape with fountains, sculptures, and well-maintained greenery. The gardens provide a peaceful setting to relax and enjoy panoramic views of the surrounding countryside.
Arab Baths: Ronda's Arab Baths are among the best-preserved in Spain, showcasing the town's Moorish heritage. The different rooms, including the cold room, warm room, and hot room, provide a glimpse into traditional bathing practices.
Wine Tour: Ronda is part of the Sierras de Malaga wine region, known for its unique grape varieties and high-altitude vineyards. A wine tour allows visitors to explore local wineries, sample regional wines, and learn about the winemaking process.
Sierra de las Nieves: This natural park near Ronda is known for its diverse flora and fauna, including the rare Pinsapo fir trees. Hiking trails offer the opportunity to immerse yourself in nature and enjoy breathtaking views of the mountains.
Tapas Tasting: Ronda's culinary scene is a delight for food enthusiasts. A tapas tasting tour allows you to sample a variety of small dishes, from traditional Spanish ham to seafood specialties, at the town's charming tapas bars.
Casa Don Bosco: This historic house provides insights into Ronda's aristocratic past. With its well-preserved rooms and a collection of furniture, art, and artefacts, Casa Don Bosco offers a glimpse into the town's opulent history.
For further suggestions on things to do and see in Ronda, please see the following page from TripAdvisor.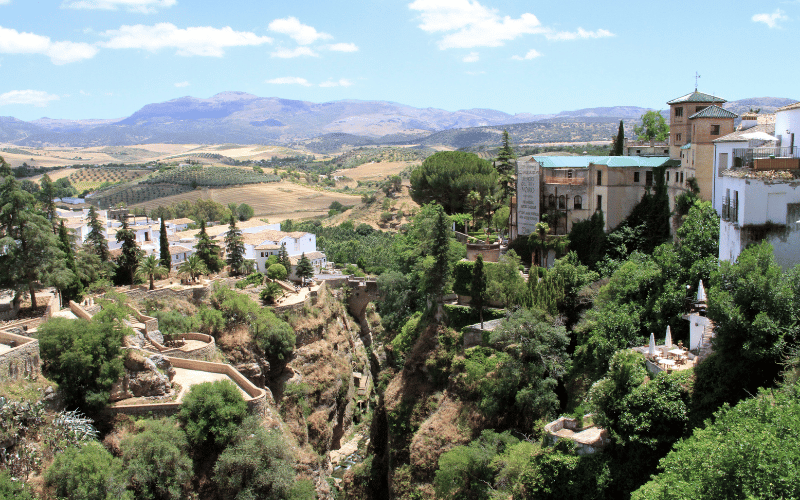 How to get there
By Car – Ronda is easily accessible from all of the towns on the Costa del Sol. The average drive time is around 1 hour depending on where you will be staying. As a guide, from Marbella, it will take you around 1 hour (60 km), and from Malaga 1 hour 20 minutes (100 km). If you're travelling by car, we suggest following the Mediterranean Motorway (A-7) to San Pedro de Alcántara and then continuing your journey on the A-397 until you reach the enchanting town of Ronda.
By Bus – You can visit Ronda by bus if you choose with Sevilla, Málaga, Marbella, Cadíz, Algeciras, and Fuengirola all offering services.
By Train – You can get a train from Málaga-María Zambrano to Ronda which takes around 2 hours.
Guided Coach Tour– A number of companies run guided tours of Ronda picking you up by coach from many of the main towns on the Costa del Sol such as Fuengirola, Marbella, and Malaga. Google "guided tours ronda from [your location]".
Ronda weather and what to wear
Spring (March to May)
Weather: Mild and pleasant with blooming flowers.
Average Temperatures: Daytime temperatures range from 15 to 25°C (59 to 77°F).
What to Wear: Lightweight and breathable clothing such as t-shirts, shorts, and sundresses. Bring a light jacket or sweater for cooler evenings. Comfortable walking shoes are advisable.
Summer (June to August)
Weather: Hot and dry, perfect for outdoor activities.
Average Temperatures: Daytime temperatures soar to an average of 30 to 35°C (86 to 95°F).
What to Wear: Light, loose-fitting clothing to stay cool in the heat. Don't forget sunscreen, sunglasses, and a hat for sun protection. Comfortable sandals or walking shoes for sightseeing.
Autumn (September to November)
Weather: Comfortable temperatures with vibrant autumn colours.
Average Temperatures: Daytime temperatures range from 20 to 30°C (68 to 86°F).
What to Wear: A mix of light layers, including long sleeves and a light jacket. Comfortable jeans or trousers for cooler evenings. Walking shoes for exploring the autumn scenery.
Winter (December to February)
Weather: Mild but potentially wet.
Average Temperatures: Daytime temperatures range from 10 to 15°C (50 to 59°F).
What to Wear: Dress in layers, including a warm jacket or coat. Sweaters or thermals may be needed. Closed-toe shoes and possibly waterproof boots, especially during wetter periods.
Remember to check the weather forecast closer to your travel dates for any unexpected changes and pack accordingly. Additionally, bring comfortable footwear for exploring the town's cobbled streets and the surrounding natural landscapes.
Enjoy your time in Ronda!