Bus and Coach Transfers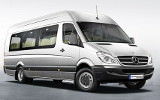 We specialise in Golf Transfers on the Costa Del Sol and Alicante regions of Spain for parties that prefer not to drive while on the their golfing holiday.
We will pick you up from Alicante or Malaga Airport and transfer you to your chosen destination, then transfer you each day to and from the golf courses.
Whether it be a welcoming face at the airport to transfer your large or small group to the hotel or a reliable driver to be there waiting to take you directly to your chosen golf course.
Never be stuck again at that busy 19th hole waiting for taxi after taxi to take your group of golfers back to your hotel after a great day out. Pre-book all your transfers with us.
Let us provide you with the professional and reliable transfer service you surely deserve. All this at a very competitive price!
Available for you are 9,12,16 seater executive mini buses or luxury 55 seater coaches all fully licensed and legal and all of our drivers are multilingual.
No more waiting around. We will look after you all the way. We are here to make your stay on the Costa del Sol, Alicante and other regions of Spain as stress free and relaxing as we possibly can.

Meet & Greet Procedure for Malaga Airport
When your group has collected their luggage please go to the meeting point on the map below.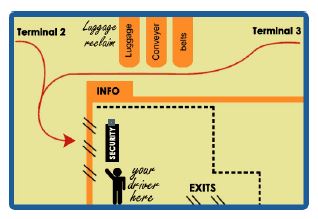 Our driver will have a banner with your groups name on it and will take care of you from there.
If you have any problems at the airport please feel free to call us on the following numbers.
Spanish Office: (+34) 952 455 948
Uk Office: (+44) 0203 384 0395
Spanish Mobiles: (+34) 670 614 659 (+34) 667 371 613
Taxi Transfers
For smaller groups we will arrange for you to be collected by taxi and taken to your Costa del Sol accommodation. You will be collected each day and transferred to your chosen golf courses. We offer greatly discounted rates on this service and can book all your taxi's in advance.
Car Hire
Golf Breaks In Spain offer environmentally friendly car hire via our partners at Green Car Hire Malaga. All our cars are latest models and include 24-hour roadside assistance, unlimited mileage, air-conditioning, radio, air-bag, power steering and central locking.
Prices start from only €6.29 per day.
| Model | Trans | Passengers | Price from |
| --- | --- | --- | --- |
| Fiat Panda | Manual | 5 | €6.29 per day |
| Opel Corsa 1.4 | Manual | 5 | €6.43 per day |
| Renault Megane | Manual | 5 | €7.29 per day |
| Renault Kangoo Combi | Manual | 5 | €8.57 per day |
| VW Polo Auto | Auto | 5 | €11.43 per day |
Get a Transfers Quote