Essential Guide to Malaga Airport Costa del Sol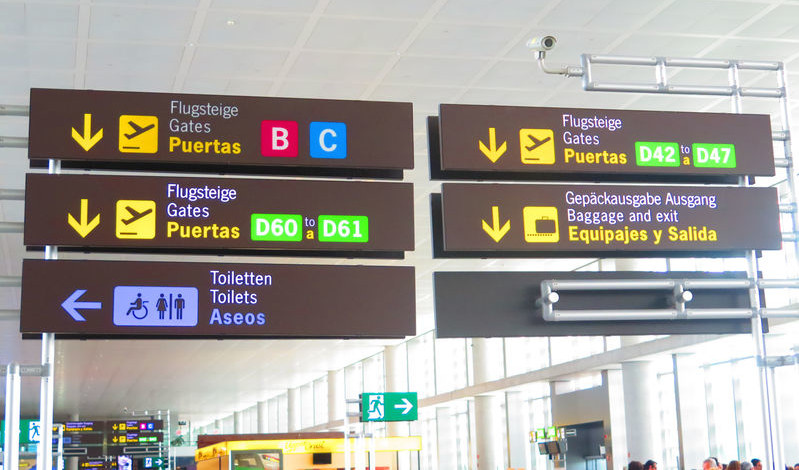 At Golf Breaks in Spain, many of our golfers fly to Malaga because of the short flight time from the UK, it's great facilities and the quick transfer times to the resorts.
Located just 8km from Malaga city centre, Malaga-Costa del Sol airport (Aeropuerto de Málaga-Costa del Sol) is one of Spain's busiest.
With three terminals, the modern airport handled almost 20 Million passengers in 2019 with the highest volume of passengers coming from the UK and London Gatwick (LGW) leading the way followed by Manchester (MAN).
Malaga Airport (AGP) also has direct routes to the rest of Spain, with scheduled flights to Madrid-Barajas, Barcelona and Palma de Mallorca.
Below you'll find our essential guide to Malaga airport, which we hope you will find useful.
Malaga Airport Arrivals – Llegadas
When you disembark from the plane you need to follow the signs for Passport Control. You will then head to the arrival hall that is located on floor 0, this is where you will find the baggage reclaim carousels and Customs area.
Baggage Reclaim
Once you are in the arrivals hall and you have 'checked in' luggage to collect, look for your flight number on the screens to see which baggage reclaim carousel has been allocated to your flight.
If you have lost luggage or damaged goods, it is important that you first go to the desk of your airline or handling agent. These can be found adjacent to the carousels.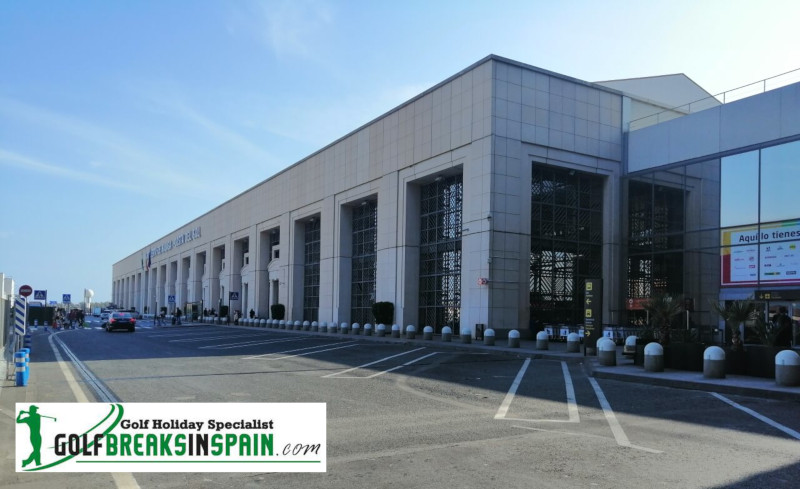 © 2020 – Russell Wood/Golf Breaks In Spain – Old arrivals meets new arrivals
Banking Services
Cash machines from several banks are located in the arrivals hall and currency exchange offices can be found in the baggage reclaim hall.
Shops and Restaurants in Arrivals
If you're feeling thirsty or hungry after your flight there is a Cafe/Restaurant in the arrivals hall of Terminal 3 (T3) where you can buy refreshments.
There is also a Duty Free shop in the baggage reclaim area of Terminal 3 selling drinks, food, cosmetics, perfumery and more.
Malaga Airport Departures – Salidas
On arrival at the airport, you need to check in. Check-in desks are located in both Terminal 2 (T2) and Terminal 3 (T3) on floor 1, departures. Terminal 2 has check-in desks 201-265 including EasyJet and in Terminal 3 there are two check-in areas. The main zone has desks 301-362 and is located as you enter from the car park drop off area.
The check-in desk that is assigned to your flight will be shown on the information screens.
It is important that you arrive in plenty of time for your flight. For Non-Schengen flights (flights from the UK) you need to check in 3 hours before your scheduled flight departure time.

© 2020 – Russell Wood/Golf Breaks In Spain – Malaga Airport Departures
Baggage Allowance
The weight of hold luggage that is checked in at the check-in desk varies from airline to airline. Please visit the website of the airline you are flying with for correct weights and sizes etc.
Easyjet check-in luggage limit is currently 23kg, although extra weight can be purchased in denominations of 3kg upto a maximum of 32kg.
Ryanair check-in luggage limit is 20kg. Each passenger however can purchase up to three checked bags of 20 kilos, but they must all be checked in at the check-in desk.
Golf clubs can also be checked in, but again these prices will vary depending on your chosen airline. Please consult your airline company website for correct prices.
At the time of writing, Easyjet charge £37 when booking online and £47 at the airport. This is for each one way flight.
Ryanair charge £30 when booking and £40 after booking, at the airport or via the call centre booking.
If you would rather save the hassle and some money in the process, you could rent your golf clubs with Golf Breaks In Spain from just €15.00 per full set
Security Checks
All passengers accessing the boarding areas must pass through the security checkpoint via the metal detector arch. All hand luggage, including coats, jackets, mobile phones, keys, belts and liquids must all pass through the x-ray machines using the special trays provided by the airport.
Please remember that all toiletries or other liquids must be in containers no bigger than 100ml (3.4oz) and must all fit into a one litre clear zip top bag. Liquids, gels and aerosols are also included in this.
Have your boarding cards ready, as you will be asked for them before going through the security checkpoint.
Boarding
Boarding gates B,C and D are located in the departures hall which is accessed through the security checkpoint.
Which boarding gate your flight is leaving from will be shown on the airport screens. While waiting for the information, there are a wide range of restaurants and cafeterias to relax in and have a drink or bite to eat. There are also several Duty Free shops and shops that sell fashion items, gifts, accessories, newspapers, books and much more.
The boarding gate locations are:-
Floor 1 – Boarding gates B01-B04, B14-B27, C30-C40, D42-D68 and D70-D78
Mezzanine – Boarding gates B05-B08
At the boarding gate you will be asked to show your passport and boarding pass by the airline staff. Have this ready to save time.
Malaga Airport Trains
Some people don't realise that Malaga Airport has a train service that runs to popular tourist destinations on the coast and inland.
To the south the RENFE C1 train line runs to tourist resorts such as Torremolinos, Fuengirola, Benalmadena, Torreblanca, Los Boliches and the Plaza Mayor shopping centre. The times below are approximate, travelling to and from Malaga Aeropuerto to popular destinations.
Malaga Airport to Torremolinos: 10 minutes
Malaga Airport to Benalmadena (Arroyo de la Miel): 18 minutes
Malaga Airport to Los Boliches: 30 minutes
Malaga Airport to Fuengirola: 34 minutes
Malaga Airport to Alora: 45 minutes
Trains also run North via the C2 line, to the town of Alora via Cartama and to the centre of Malaga, stopping at Malaga Centro Alameda. Trains also pass through the Malaga Maria Zambrano station which is a hub providing high-speed AVE trains to major Spanish cities such as Seville and Madrid.
Malaga train station is located just a few minutes walk from the main Terminal 3 arrivals hall.
For timetables to and from the airport, please check the RENFE website here http://www.renfe.com/EN/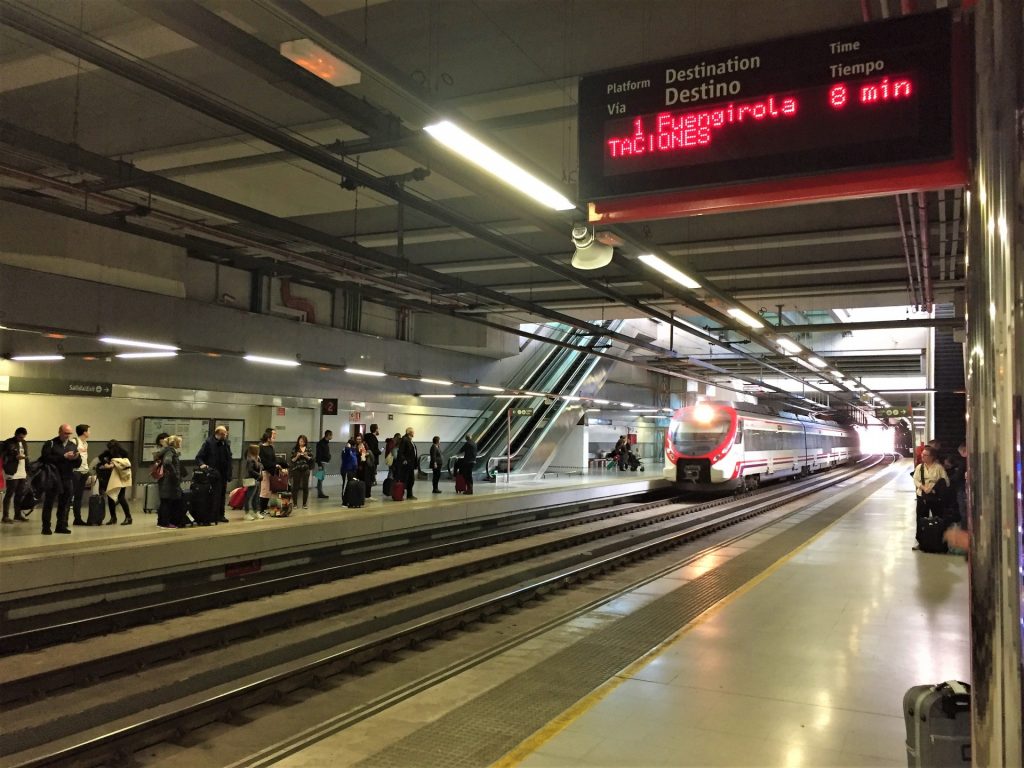 Image Credit: Public Domain Pictures
Malaga Airport Buses
Travelling by bus from the airport is easy and there are several bus options.
The bus stop is located on the forecourt outside the new Malaga Airport Terminal 3, where you will also find the ticket office/booth where you can purchase your tickets.
Buses run to Marbella Bus Station, Malaga City, Estepona, Algeciras, Torremolinos and Benalmadena.
The buses that run to Torremolinos and Benalmadena (stopping at a large number of hotels along the route) run every hour from Monday to Friday and every two hours on weekends and Bank holidays.
Malaga Airport to Marbella Bus Station
This bus runs directly to Marbella Bus Station, via the Toll road. It takes about 45 minutes and a single fare costs 6.50 euros.
During the summer months this service operates every hour, so make sure you get straight in the queue as they do get very busy and getting on is not always guaranteed.
The winter months bring a change to the bus schedule, with buses running roughly every two hours.
Malaga Airport to Malaga City (Bus C19)
This service runs every 25-30 minutes, with a few stops along the route.
The first bus leaves at 7:00am on most days and the last leaves the airport at around midnight.
On return to Malaga Airport the first bus leaves Malaga Bus Station at around 6:30am and the last one departs at 11:20pm.
Malaga Airport to Estepona
The buses from Malaga airport to Estepona run daily and take about 1 hour 15 minutes.
The first bus departs from the airport at 7am, then at 10am and 11.20am. In the afternoon they run at 1:15pm, 5:20pm and 9pm.
Return journeys from Estepona to Malaga Airport also run daily at 5:30am, 7:15am, 8:15am and 11.45am, then again at 2:30pm and 3:30pm.
Malaga Airport to Algeciras
Direct buses from Malaga airport to Algeciras run daily at 11:20am and 5:20pm.
Return buses from Algeciras to Malaga Airport also run daily at 6:30am and 1:45pm.
The journey takes approximately 2 hours.
Malaga Airport to Seville and Granada
These new bus routes running from the airport have just been introduced.
The Seville bus service runs seven days of the week, departing at 4:45pm. It takes about 3 hours 15 minutes, arriving in Seville at roughly 8:00pm.
The return journey from Seville back to Malaga Airport departs at 8:00am and arrives at 11:00am.
The Granada bus leaves from the airport twice a day at 11:30am and again at 6:30pm. The journey time is about 2 hours 30 minutes, meaning arrival in Granada at approximately 2:00pm and 9:00pm respectively.
The return journey from Granada back to Malaga Airport also has two departures a day, one at 7:00am and again at 10:00am arriving at 9:30am and 12:30pm respectively.
The official website for all local buses containing all the information you need is www.avanzabus.com
The official website for all long-distance buses containing all the information you need is www.alsa.es
Another great site for bus timetables and prices is https://www.checkmybus.co.uk
Malaga Airport Facilities
Wi-Fi
Free Wi-Fi is available throughout the airport when you connect to the "AIRPORT FREE WIFI AENA" network. You can register via email, Aena Club Cliente or Linkedin. The log-in is quick, doesn't require codes and offers the user the option to add more than one device.
For more information about how to connect, click here.
Luggage Wrapping Machine
Luggage wrapping is designed to protect your belongings from theft, tampering, damage and scratches and is suitable for all luggage regardless of size or weight. It is also approved by AENA and recommended by airlines.
Luggage wrapping machines are located next to the check-in counters, at Departure areas.
Opening times may vary.
T2 level 1, near the pharmacy in check-in area, open from 5am to 8pm
T2 level 1, Check-in area close to check-in desks 301-362, open from 4am to 10:30pm
T2 level 1, Check-in area close to check-in desks 363-386, open from 8am to 10:30pm
Work Areas
If you find yourself with a low battery on your mobile phone or laptop, the airport has work desks with plug sockets for charging all electronic devices. These can be found on
Floor 2 in the boarding area and also by Gates D.
Currency Exchange
The airport sells more than 80 currencies in foreign bank notes and travelers cheques. They accept debit/credit cards, airline vouchers and international money transfers. They can be found at:-
Terminal 2: telephone: 952 067 764
Terminal 3: telephone: 952 238 274 (departures) / 952 239 981 (arrivals)
Floor 0. Baggage reclaim hall. Opening hours: 9.00 to 22.00
Floor 0. Baggage reclaim hall and arrivals hall. Opening hours: 7.00 to 22.00
Floor 1. Boarding area D. Opening hours: 6.30 to 0.00
ATMs, Euronet
All the cash machines in the airport accept Visa, Visa Electron and Plus, Mastercard, Cirrus, Maestro, EC, Union Pay, American Express and JCB.
ATMs can be found in the following areas:-
Floor 0. Baggage reclaim hall
Floor 0. Arrivals hall
Floor 1. Check-in area. 301-362
Floor 1. Boarding area C
Floor 1. Boarding area D
VIP Lounge (Sala)
There is a VIP Lounge that is located in the boarding area on Floor 2.
It offers reception, concierge, catering, newspapers, flight information, TV, Internet access with free Wi-Fi, disabled access and a meeting area. You will find it open between the hours of 6am and 11pm
Access Criteria:-
You must be a business ticket holder of companies and associated club cards.
All other passengers travelling with you can access the lounge with previous payment by either cash or card. See prices below.
The maximum residence time will be four (4) hours, immediately prior to the scheduled flight departure time shown on the boarding pass. In the event of flight delays, this period may be extended for the duration of the corresponding delay.
Prices:-
Adults (from 11 years old): € 34.90
Children from 6 to 10 years old: € 16.05
Children from 0 to 5 years: free entry.
Prices are inclusive of VAT.
Please note that smoking is not permitted anywhere inside the Airport Terminal. Smoking outside of the building only!
How to check flight times at Malaga Airport
To get Information on flight times and delays go to the following page
http://www.aena.es
Shops & Restaurants at Malaga Airport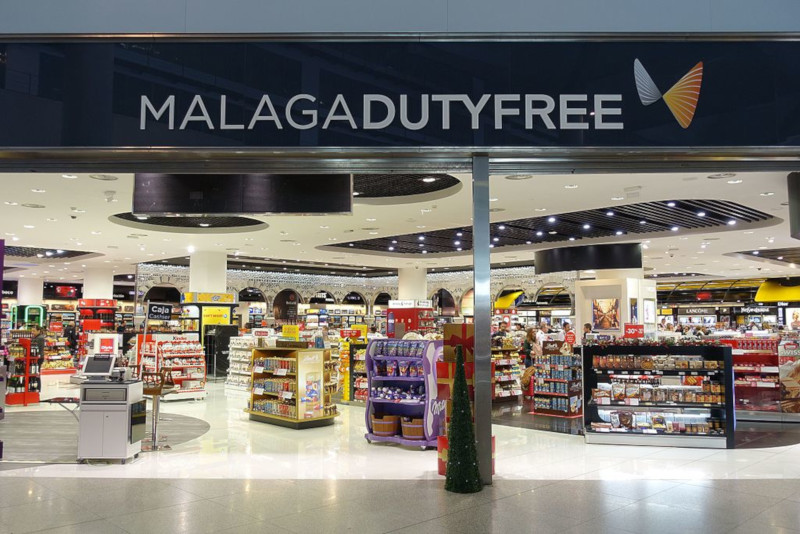 Image Credit: Ulflarsen [CC BY-SA]
| SHOP | LOCATION | TYPE | OPENING TIMES |
| --- | --- | --- | --- |
| Malaga Arrival Shop | Terminal 1, Floor 0 (Passenger zone only) | Duty Free | 9 am to 10:30 pm |
| Malaga Duty Free | Terminal 1, Floor 1, Departures | Duty Free | 4:15 am to 11:30 pm |
| Express Duty Free | Terminal 1, Floor 1, Near departure gates | Duty Free | 7:30 am to 9:30 pm |
| Pharmacy | Terminal 1, Floor 1,Departures (Public Zone) | Pharmacy | 7 am - 9 pm. Sat, Sun and Public Holidays 8 am - 8 pm |
| Swarovski | Terminal 1, Floor 1, Departures | Jewellery and Accessories | 8 am - 9 pm |
| Tous | Terminal 1, Floor 1, Departures | Spanish Jewellery and Accessories | 7 am - 10 pm |
| Vidal & Vidal | Terminal 1, Floor 1, Departures | Jewellery | 7 am -10:30 pm |
| LOL Sweets | Terminal 1, Floor 1, Departures | Confectionery | 5:30 am - 10:30 pm |
| Petra Mora | Terminal 1, Floor 1, Departures | Delicatessen | 5 am - 11:30 pm |
| Adolfo Dominguez | Terminal 1, Floor 1, Departures | Fashion and Accessories | 7 am - 9 pm |
| Desigual | Terminal 1, Floor 1, Departures | Fashion and Accessories | 8 am - 10 pm |
| FlyMate | Terminal 1, Floor 1, Departures | Luggage, leather goods and electronics | 7 am - 7:30 pm |
| Natura | Terminal 1, Floor 1, Departures | Fashion and Accessories | 7:30 am - 10 pm |
| Ocean Company | Terminal 1, Floor 1, Departures | Fashion and Accessories | 8 am - 10:30 pm |
| Parfois | Terminal 1, Floor 1, Departures | Fashion and Accessories | 8 am - 9 pm |
| Sunglasses Hut | Terminal 1, Floor 1, Departures (Public Zone and Passenger only zone) | Sunglasses | 7 am - 10 pm |
| Superdry | Terminal 1, Floor 1, Departures | Fashion and Accessories | 7:30 am - 10 pm |
| The Fashion Gallery | Terminal 1, Floor 1, Departures | Fashion and Accessories | 7:30 am - 10 pm |
| Victoria's Secret | Terminal 1, Floor 1, Departures | Lingerie and Beauty | 7:30 am - 10 pm |
| Relay | Terminal 1, Floor 0, Arrivals (Public Zone) | Stationary and Confectionery | 9 am - 9 pm |
| LockMate | Terminal 1, Floor 0, Arrivals (Public Zone) | Travel Products | 8 am - 9 pm |
| Discover Andalucia | Terminal 1, Floor 1, Departures (Public Zone) | Souvenirs | 7 am - 9 pm |
| Superskunk | Terminal 1, Floor 1, Departures (Public Zone) | Gifts | 7 am - 9 pm |
| Superskunk | Terminal 1, Floor 1, Departures ( Passenger Only Zone) | Gifts | 5 am -10 pm |
Places to Eat and Drink
| NAME | LOCATION | TYPE | OPENING TIMES |
| --- | --- | --- | --- |
| Cafe Pans | Terminal 1, Floor 1, Departures (Public Zone) | Cafe and Takeaway Food | 5:30 am - 8 pm |
| Pans & Company | Terminal 1, Floor 1, Departures (Passenger Only Zone) | Cafe and Takeaway Food | 5 am - 9 pm |
| Caffe di Fiore | Terminal 1, Floor 1, Departures | Cafe and Takeaway Food | 9 am - 5 pm |
| Carte D'or | Terminal 1, Floor 1, Departures | Ice Cream | 5 am - 9 pm |
| Costa Coffee | Terminal 1, Floor 1, Departures (Passenger only Zone) | Cafe and Takeaway Food | 5 am - 9 pm |
| Eat | Terminal 1, Floor 1, Departures (Passenger only Zone) | Cafe and Takeaway Food | 5 am - 10 pm |
| La Manon | Terminal 1, Floor 0, Arrivals | Cafe and Takeaway Food | 8 am-10 pm |
| SOHO Coffee Co | Terminal 1, Floor 1, Departures (Passenger only Zone) | Cafe and Takeaway Food | 5:30 am-11 pm |
| Starbucks | Terminal 1, Floor 1, Departures | Cafe and Takeaway Food | 24 Hours |
| Burger King | Terminal 1, Floor 1, Departures (Public Zone) | Fast Food | 11:30 am - 5 pm |
| Burger King | Terminal 1, Floor 2, Departures (Passengers only Zone) | Fast Food | 5 am - 12:00 am |
| Giraffe Stop | Terminal 1, Floor 1, Departures (Passenger only Zone) | Fast Food | 5 am -11 pm |
| Exploring The World | Terminal 1, Floor 1, Departures | Restaurant | 5 am - 10 pm |
| Giraffe World Kitchen | Terminal 1, Floor 1, Departures | Restaurant | 4 am - 10 pm |
| Jamie's Deli | Terminal 1, Floor 1, Departures | Restaurant | 5 am - 10 pm |
| Kirei by Kabuki | Terminal 1, Floor 1, Departures | Restaurant | 7 am - 10 pm |
| La Boutique | Terminal 1, Floor 2, Departures | Restaurant | 9 am - 9:30 pm |
| Mum's Kitchen | Terminal 1, Floor 1, Departures | Restaurant | 24 Hours |
| Dehesa Santa Maria | Terminal 1, Floor 0, Arrivals (Public Zone) | Drinks and Snacks | 24 Hours |
| Dehesa Santa Maria | Terminal 1, Floor 1, Departures (Passenger only Zone) | Drinks and Snacks | 5 am - 10 pm |
| MasQMenos | Terminal 1, Floor 1, Departures (Passenger only Zone) | Drinks and Snacks | 6 am - 10 pm |
| MasQMenos | Terminal 1, Floor 1, Departures (Exterior) | Drinks and Snacks | 7 am - 9 pm |
Malaga Airport Contact Information
Address:- Avda, Garcia Morato s/n,
29004 Malaga
E-Mail:- [email protected]
Information and Customer Services Line:- (+34) 913 211 000
Also find Malaga Airport on :-
Twitter https://twitter.com/aena
Facebook https://www.facebook.com/aena.es/
Instagram https://www.instagram.com/aena.es/
LinkedIn https://www.linkedin.com/company/aena