Golf Holiday Guide To Benidorm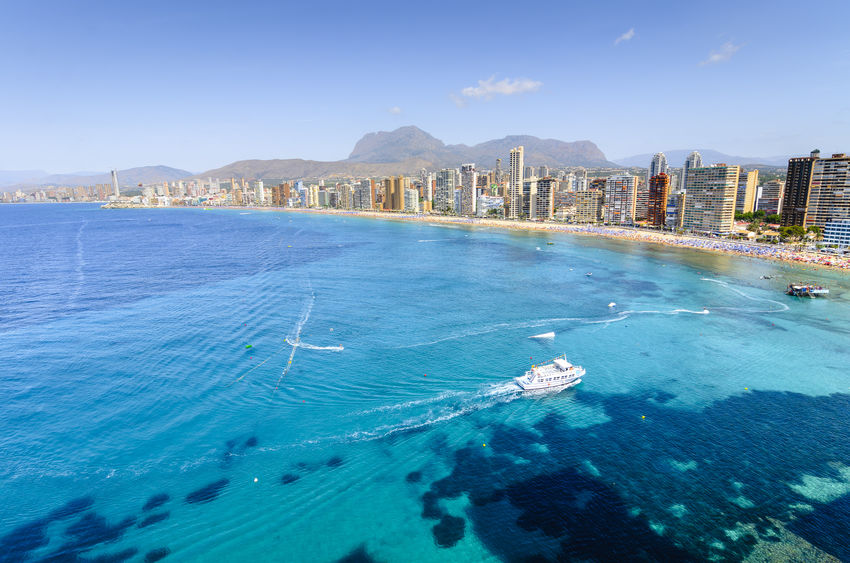 The Valencian coastal resort of Benidorm lies on the eastern coast of Spain. It is part of the ever popular Costa Blanca.
Until the 1960's, Benidorm was a tiny fishing village. Over the years it has seen a lot of change. Today it remains one of Spain's most popular holiday destinations. It is renowned for it's lively nightlife.
It's not all about the nightlife though. Benidorm also has two beautiful sandy beaches and several golf courses for you to enjoy.
Located just 36.3 miles (approx a 40 minute drive) from Alicante. It is easy to see why Benidorm is the chosen holiday destination for so many.
Benidorm Golf Courses
As we offer a wide range of golfing packages in Spain including Benidorm, it's only right that we cover the Benidorm golfing scene first.
Melia Villaitana – Levante Golf Course
The Levante course at Melia Villaitana is an American style Nicklaus designed course.  In addition, a par of 72 measuring over 6,576 meters.
The course features beautifully shaped greens. Approached by wide open fairways and offers amazing views to the Sierra de Finestrat mountains and  Mediterranean sea.
The Nicklaus designed course features no less than 106 bunkers. Consequently they are just waiting to catch your wayward tee shot.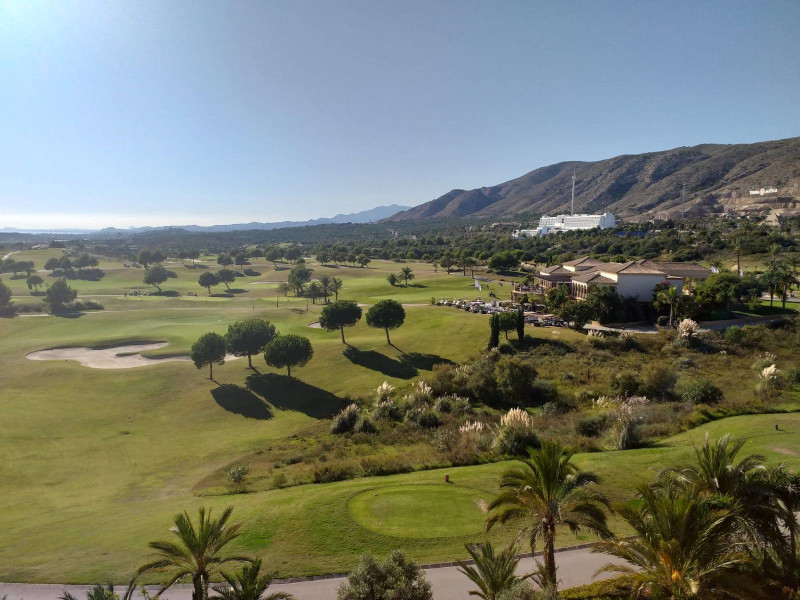 Image Credit: Melia Villaitana
Melia Villaitana – Poniente Golf Course
The Poniente course measures 3,858 meters in length and is a par 62. The course is located on the hill side of a beautiful valley offering lovely sea and mountain views.
The course is hard for low handicap players and will demand excellent short iron skills. However, it also provides the perfect challenge for  medium or high handicaps.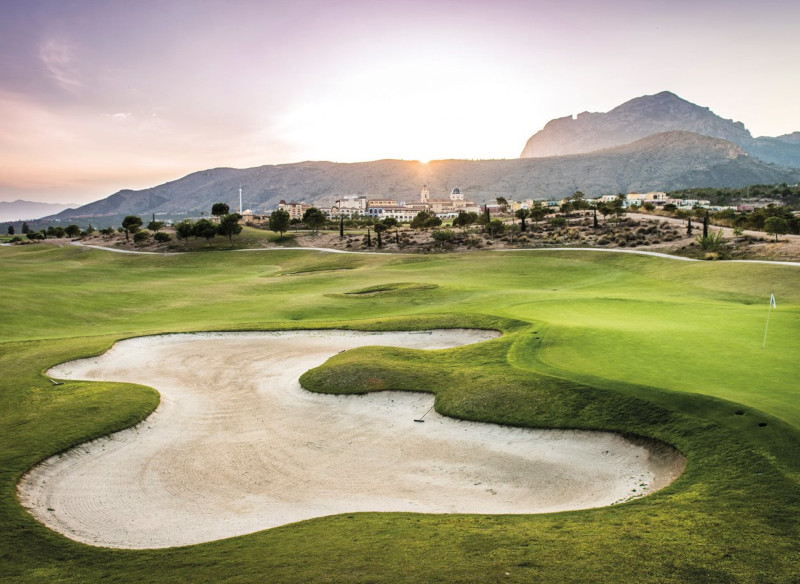 Image Credit: Melia Villaitana
Golf Holidays In Benidorm
*** We currently have a great 5 night golf package in Benidorm which includes rounds of golf at both the Levante and Poniente courses with B&B or All Inclusive board basis. Alternatively, check out our full range of golfing breaks in Spain.
Benidorm Weather
Benidorm has a Mediterranean climate which makes for hot summers and mild winters.
July and August are the hottest months with temperatures of up to 30c. The coldest months are December and January where temperatures can drop to 12c during the daytime.
The spring months are the most comfortable in Benidorm, with increasing levels of sunshine and very little rainfall.
Our advice when booking a golfing holiday is that you should consider avoiding July and August. These months see high temperatures. Subsequently making it a lot less fun on the golf course.
In our opinion the best months to play golf are April, May, June, September and October.
Nightlife, Bars and Restaurants
Benidorm has a reputation of being the most popular party capital on the Costa Blanca. Including one of the most important tourist resorts. It is not for those seeking a quiet, relaxing get away. Benidorm action continues until breakfast time.
The 'go to place' in Benidorm is the famous Benidorm Palace. Above all a great evening out. Certainly  you can enjoy a cabaret show with dinner included. A night full of dancing and extravagant costumes.
If it's night clubs you are looking for head slightly out of town. A five minute taxi drive from most hotels and apartments to Avenida Communitat Valencia. Main super nightclubs can be found here. During the summer months these clubs throw massive parties. Above all they feature some of the world's top DJ's.
The most popular clubs in Benidorm are Penelopes, El Divino, Hippodrome and KM Dance Club. Here gorgeous girls and handsome men can be seen pole dancing.
Benidorm is also home to many bars, show bars, cabaret bars, country and western bars and karaoke.
Show Bars are open throughout the day and night. With live music in the afternoon and drinks and snacks served all day. Some of the most popular ones are Champions, Wookys, Buddies and Vincent's Cellar. These can be found on Playa Levante.
There are so many pubs and bars to choose from. Here are a few for you to wet your appetite. The Shamrock Bar, The Scotsman pub, The Talk of the Coast, Lineker´s Bar, Western Saloon for good live bands, KM Playa, The Harp Bar, Star & Garter, Zodiac, Chaplin's, Lennon's, Jokers, Steptoes II, The Town, Valentines Red Dog Saloon for the older line-dancing crowd, and Bahamas Fun Club for the youngsters.
The centre of attraction for all the bars is the area known as The English Square.
After all that drinking you will need some food. Many of the restaurants in Benidorm will be Spanish. However, you will also find many serving international cuisine.
The Spanish restaurants serve tapas and local recipes. Many include seafood and traditional Valencian dishes such as Paella.
The best known tapas bar is La Cava Aragonesa, found in the old town on Plaza de la Constitución 2.  Famous for having 44 metres worth of tapas! In the old town you will also find Tapas Alley, lined with traditional tapas bars.
Although most restaurants in Benidorm are owned and run by the Spanish, you will also find many others. In addition,  Chinese, Italian, Indian, Thai, French, German and Japanese (sushi) restaurants cater for the many diverse nationalities. Especially opened for those who live in or visit Benidorm.
Look out for the 'Menu del Dia' offered by most Benidorm restaurants, especially at lunchtime. This is a great value menu. Typically includes a starter, main course, dessert and often includes wine, a soft drink or coffee.
Benidorm Beaches
Benidorm may have great nightlife, but it's main attraction is still it's fantastic coastline. It's easy to why with five beaches to choose from. We have chosen just three to share with you.
Playa de Poniente is the biggest beach. It covers 3,000 metres of white sand. It is 100 metres wide in some areas.
Located just south of the centre and awarded the blue flag, it is a favourite with the locals. Playa de Poniente has everything you need for a day at the beach. Sunbeds and umbrellas are available 11 months of the year. All with disabled access, free showers and toilets, lifeguards, children's playgrounds. Even a public library can be found located right on the beach!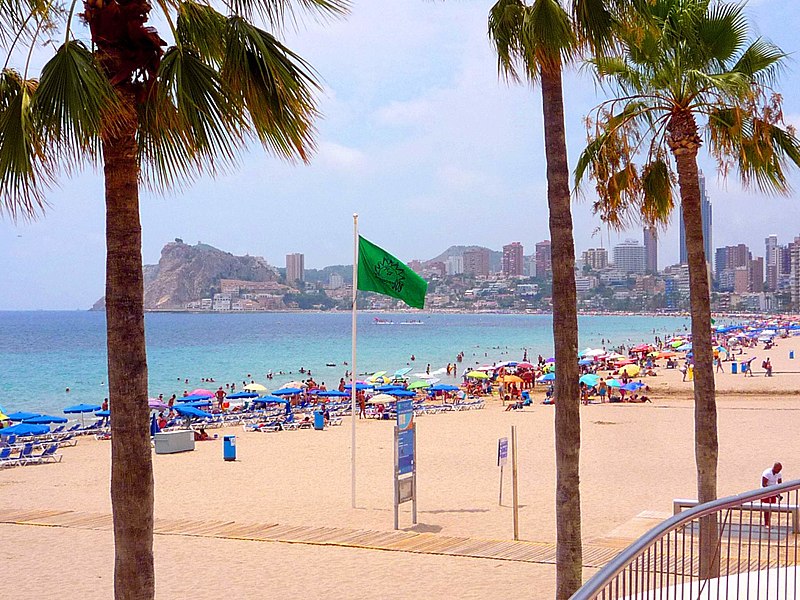 Image Credit: Zarateman [CC0], via Wikimedia Commons
Water sport lovers will also find plenty to keep themselves active. The beach is adjacent to the marina. You will find the Nautical Club, as well as the PADI sub-centre there. You can also hire kayaks, jet skis, motorboats and sailing boats.
Unfortunately, this beautiful beach doesn't have chiringuitos or beach bars. However there are plenty of restaurants just a few metres walk across the beach promenade.
You will find several free car parks located in the streets behind the promenade.
Playa de Lavante is located just north of the town centre. It is probably the most popular beach in the resort. Considered by many to be one of the best beaches of the Costa Blanca. It's long, golden sandy bay stretches for 2,000 metres. In addition to having an average width of 50 metres.
This beach is perfect for families with children. The water is clear, shallow and relatively sheltered. In addition you will find sunbeds to hire. Showers with disabled access are a bonus. There are also rescue services, and children's play areas (also in the water, with floating platforms and water slides).  Water sport equipment hire, including jet skis, windsurfing, wake-boarding, pedalos can add to the over all enjoyment.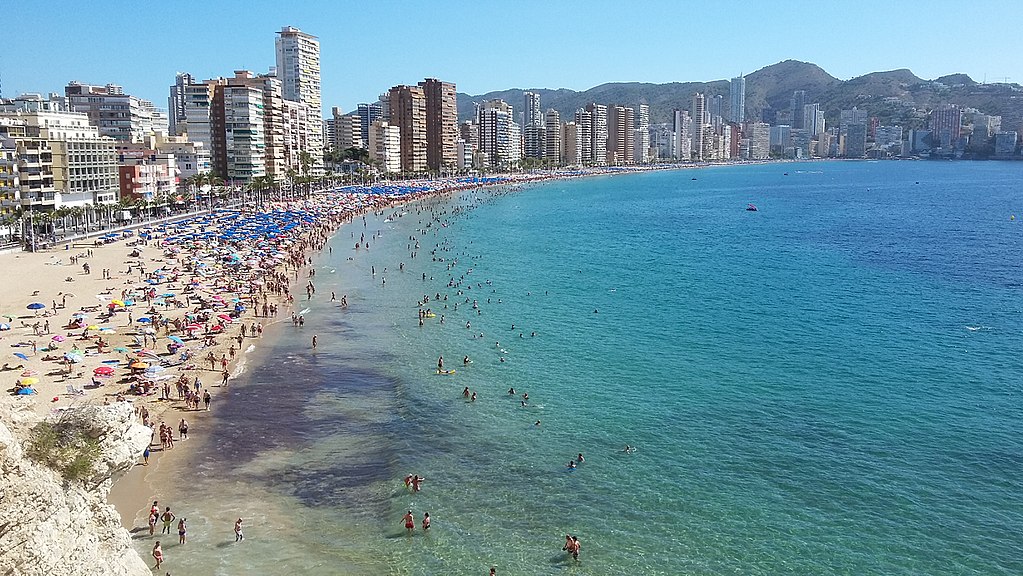 Image Credit: Ferengra [CC BY-SA 4.0], via Wikimedia Commons
As on the other beaches in Benidorm, Playa de Levante does not have any of the famous chiringuitos. The paseo maritimo (promenade)  runs along the full length of the beach. That is to say, there are countless bars, restaurants, shops and supermarkets.
Cala Mal Pas can be found right below the historical centre. Importantly located between Benidorm's marina and the rock spur. Ideally sitting below the Balcón del Mediterraneo viewpoint and the Plaza Santa Ana,
Cala Mal Pas is a blue flag beach that is quiet and secluded despite being so central. It also has a completely different feel from the lively  main beaches in Benidorm,
It is 120 metres long and about 20 metres wide thanks to the rocks. They give shape to both ends of the golden shoreline. Certainly, the water is clear, shallow and generally sheltered. Showers, sunbed hire and rescue service are all available. Alas, there are no bars or restaurants. However they are only just a few steps away. Situated in the centre or at the entrance of the marina that is nearby. There, many eateries and watering holes can be found.
For more information about all five of the beaches click the following link. https://en.visitbenidorm.es/ver/144/benidorm-beaches-and-coves.html
Benidorm Transportation
Buses
Benidorm is a vast city, spread out around the bay. To make it easier to get around there is an urban bus service. Further more, buses connect Poniente and Levante to the centre. Busses also connect the different leisure venues. For example the water and theme parks, including the civic centres.
Travelling in and around Benidorm by bus is a cheap way to get around and discover the region. There are many buses operating in Benidorm. In short they go to all the nearby towns and cities of the Costa Blanca.
Holiday makers can take in the sights of Benidorm via the panoramic 30-Bus line. The tourist bus travels across the city from east to west and vice versa. Certainly offering a panoramic view across Benidorm.
The modern Bus Station with a shopping centre, can be found in the Partida Salt de l'Aigua. Firstly, it is beside the Law Courts and the INVAT.TUR. Secondly, the station connects Benidorm with the rest of Spain and Europe by means of direct lines. ALSA (Enatcar-Ubesa) travels to Madrid, Barcelona, Valencia, Murcia, Almería, Málaga, Sevilla, Córdoba, Granda, Jaén, Valladolid and Asturias. As well as to the main cities in Italy and the South of France.
Bilman Bus, connects to Logroño, Vitoria, Bilbao, Pamplona, Tolosa, San Sebastián and Irún.
Autocares Jiménez, to Teruel and Zaragoza.
Linebus and StarBus, to Belgium and Holland, covering other services to France and Italy, and Eurolines, to all of Europe.
Trains
The TRAM, is a high speed tramway. It follows the line of the veteran Trenet de La Marina and joins Alicante and Dénia. Subsequently connecting the whole coast and the theme parks.
The No.9 line goes directly to the heart of Alicante, with a stop at the MARQ (Provincial Archaeological Museum). Certainly,  extremely interesting travelling museum exhibitions, as well as its own permanent collection.
Ferries
There are a variety of regular boat and ferry services. They go to the nearby towns and resorts of Costa Blanca along the coastline. They leave from Benidorm marina.
Tourist Hotspots
When you're not on the golf course, try your hand at water sports at the beach. On the other hand why not enjoying the great nightlife. In conclusion, why not enjoy all that Benidorm has to offer.
Here is a list of just a handful of things you can see and do, in and around Benidorm.
Terra Mitica
https://www.terramiticapark.com/en/
Aqualandia
https://www.aqualandia.net/en/
Mundomar
https://www.mundomar.es/en/
Lockdown Escape Room
https://www.escapebenidorm.com/en/
Aqua Natura
http://benidorm.terranatura.com/
Terra Natura
http://benidorm.terranatura.com/