Best Golf Courses In Alicante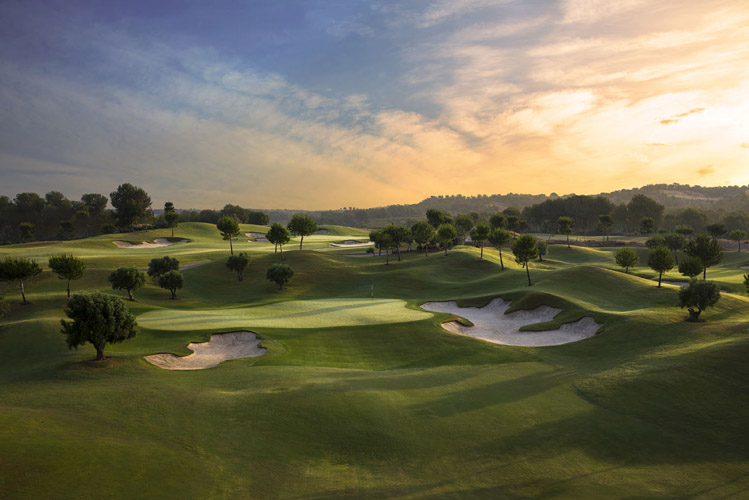 If you have ever considered booking a golf holiday in the Alicante region of Spain, you're not alone. Every year, hundreds of golfers do exactly that and look to this particular part of Costa Blanca for their next golfing break.
Question is, what are the best courses to play in Alicante while there?
At Golf Breaks In Spain, we have come up with a list of the top 7 Alicante golf courses we think you should visit while on your Alicante golfing holiday.
Fortunately, many of the courses below are featured as part of our golf holiday packages in Alicante.
Ready? Let's dive in!
Bonalba Golf Resort
Located just a short iron away from Alicante Airport you will find the Bonalba golf course, which is a part of the Bonalba Resort.
This 18 hole, par 72 course is stunning and features five lakes that come into play on 7 of the holes. The front 9 holes are quite tricky and will require an accurate short game for you to make par.
The back 9 is a different story and will mean great accuracy with the driver, especially when overcoming the strong winds that are a constant challenge. The 16th, 17th and 18th holes are particularly difficult as the wind blows directly into your face.
Alenda Golf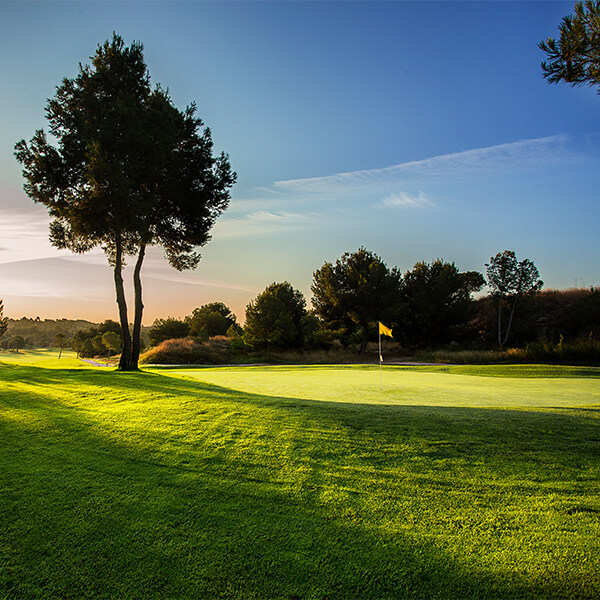 Image Credit: Alenda Golf
Alenda Golf is another favourite for many golfers visiting Alicante for a golfing break.
The course was first opened in 1999 as is a par 72 measuring a total of 6,257 metres in length.
The facilities at Alenda Golf are excellent. The club boasts a 25 mat floodlit driving range, gymnasium, paddle tennis courts and sports complex where you can take part in different exercise classes or hire a personal trainer.
On-site you will also find the clubhouse with a restaurant and pro-shop where you can stock up on all the latest golfing equipment.
Font del Llop
Located just a few minutes away from El Altet airport in the heart of the Alicante region and just a few miles from the Alenda course, you will find Font del Llop, which is another favourite of golfers visiting the Costa Blanca.
The course was designed by Blake Stirling and Marco Martin and is a par 72. The course is commonly referred to by the owners as a course that has an 'American design and Scottish layout'.
The Font del Llop course is the perfect challenge for golfers of all abilities and is characterised by its many irrigation ponds and rivers that feature heavily around the course.
Make sure you make good use of the training facilities on offer at Font del Llop including the 12 mat driving range, putting green and practice bunker.
Alicante Golf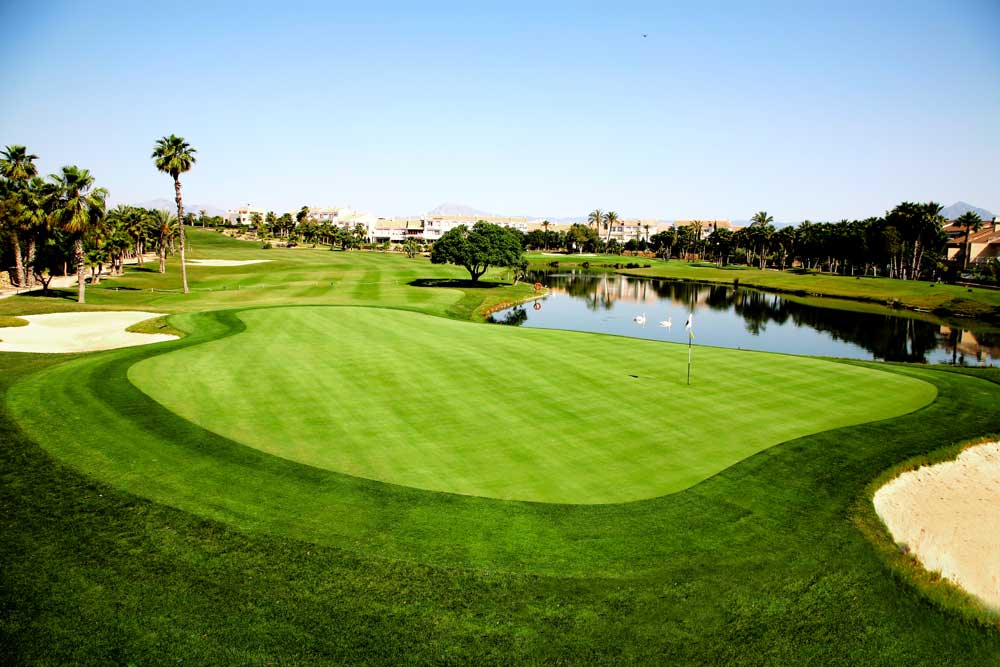 Image Credit: Alicante Golf
Located just a few minutes from the centre of Alicante, the Alicante golf course is a favourite for many who visit the Costa Blanca in search of some great golf.
The course was designed by Spanish golfing legend Severiano Ballesteros and is a par 72 measuring a total of 6,236 metres from the white tees.
The Alicante course is designed in such as way that you will never play consecutive holes of the same par. In all, there are six par 3's, six par 4's and six par 5 holes.
The course features five large lakes that come into play in 12 of the 18 holes. The fairways are wide and greens fast making it an excellent challenge for players of all abilities.
Facilities at Alicante are first class and include a grass driving range, short play area and pro-shop.
Villaitana Levante
Villaitana golf comprises two courses, which are the Poniente and Levante courses.
The Levante course is considered to be an American style course, which features lovely wide fairways and elegantly shaped greens.
The course has a total length of 6,576 metres, making it a par 72. Be sure to check out the stunning views the course boasts to the Sierra de Finestrat mountains and the Mediterranean sea.
The Levante golf course was designed by Golden Bear himself, Jack Nicklaus and features over 100 bunkers and three beautiful lakes to negotiate.
There are excellent facilities available at the club before and after your round.
Las Colinas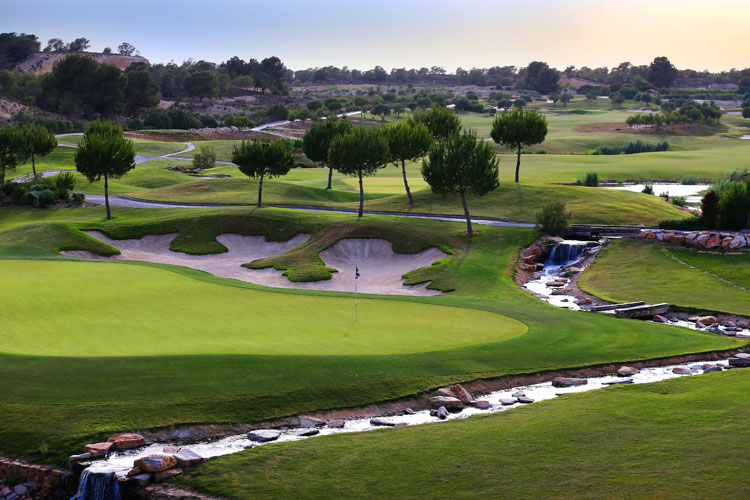 Image Credit: Las Colinas Golf
Located in Orihuela, Alicante, the Las Colinas course was designed by renowned course architect, Cabell B. Robinson and was voted the best course in Spain in 2015. The Las Colinas course is considered by many to be one of the top 100 golf courses in Europe.
Robinson believed that his ultimate aim when designing a course was to make sure it formed an integral part of the existing landscape. This is exactly what he achieved with the Las Colinas course, which blends seamlessly into its natural environment, shielded within a valley between hills.
The course has a par of 71 and measures 6,581 metres and is an excellent challenge for golfers of all various abilities.
The amenities at the course are fantastic and you will find a clubhouse, grass driving range, putting green, approach play area and golf academy.
Villamartin
Lastly, we have the popular Villamartin course, which was designed by course architect Paul Putman way back in 1972.
Measuring 6,005 metres from the white tees and a par 72, the Villamartin course has had the pleasure of hosting several professional tournaments over the years including the Mediterranean Open in 1994 and won by Spanish golfing legend, Jose Maria Olazabal.
The 17th hole at Villamartin is thought to be the best par 3 in Spain and measures 210 metres from the elevated back tee with a carry over a ravine to the hole's three-tiered green. The green is surrounded by trees and bunkers and offers stunning views from the tee.
Villamartin has all the usual facilities you would expect to find at a top course in Alicante including a clubhouse, bar, restaurant, driving range, putting greens and pro-shop.
So there you have it. Seven of the best golf courses in Alicante, which you can enjoy while on a golf holiday in Alicante.
Golf Holidays in Alicante
At Golf Breaks in Spain, we specialise in golfing breaks in Alicante and other regions of Spain. If you are looking for a great value golf holiday in this particular part of Spain, please take a look at our golf packages in Alicante page.
Featured Image Credit: Las Colinas Golf