Why waste time ringing around for taxis whilst on your golf break here on the Costa del Sol?
No need to speak Spanish or pay those overpriced rates just because you are on holiday.
Let us at Golf Breaks in Spain arrange all your transport needs.
Whether it be a welcoming face at Malaga airport to transfer your large or small group to the hotel or a reliable driver to be there waiting to take you directly to your chosen golf course.
Never be stuck again at that busy 19th hole waiting for taxi after taxi to take your group of golfers back to your hotel after a great day out. Pre-book all your transfers with us.
Let us provide you with the professionally reliable transfer service you surely deserve.
All this for a very competitive price.
Available for you are 9,12,16 seater executive mini buses or luxury 55 seater coaches all fully licensed and legal, all our drivers are multilingual.
No more waiting around. We will look after you all the way.
We are here to make your stay on the Costa del Sol as stress free and relaxing as we possibly can.
Please click the image below to receive a quote for your Malaga golf transfers.

Meet & Greet Procedure for Malaga Airport.
When your group has collected their luggage please go to the meeting point on the map below.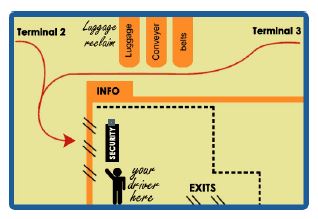 Our driver will have a banner with your groups name on it and will take care of you from there.
If you have any problems at the airport please feel free to call us on the following numbers.
Spanish Office: (+34) 952 455 948
Uk Office: (+44) 0203 384 0395
Spanish Mobiles: (+34) 670 614 659 (+34) 667 371 613