Santana Golf & Country Club is an 18 Hole golf course par 72 and measures approximately 6203 metres or just under 7,000 yards in length. The course sits in the middle of 138 acres of stunning parkland filled with Avocado trees, along with many other trees such as Eucalyptus, Orange and Lemons, Cactus, Pines and Fig. All you need to do, is make sure you do not put your ball in the middle of them!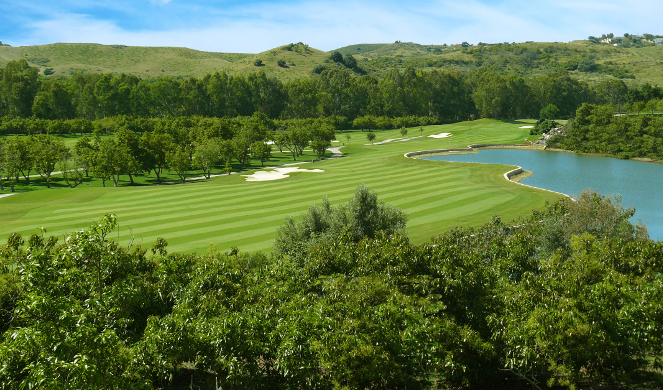 This course is looked after by its many green keepers and has automatic irrigation throughout the course, as well as a sophisticated drainage system to keep the course open in near perfect condition 365 days of the year.
Its one of the only course here on the Costa del Sol that is an enjoyable walk as well given its lack of hills.
Its a very easy start to your day with a nice dog leg right par 4 before leading you into the first testing par 3, which although it doesn't look to tough, it has a small lake which comes across the front of the green, but plays longer than it looks so, be warned.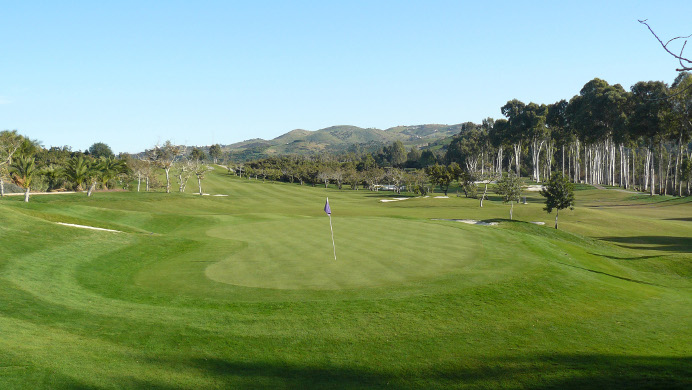 The picturesque hole 5 par 5 is the signature hole considered to be the longest hole on the Costa del Sol at 595 metres (650 yards) long. The fairways are flanked down the right hand side with Cork Oak trees that have been there for some 500 years. This leads down to a very nice approach shot across the 'Campillos' stream………….very testing!
Not to forget the 12th Par 3, playing downhill, with a very large undulating green, many a golfer would be happy to walk away with a three here…………………..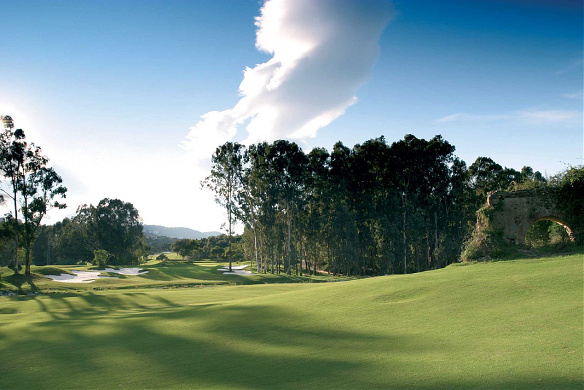 The course is a great stableford day out as you can rack up a high points tally because of the open fairways and fairly large greens. The bunkers are made from crushed marble so even if you end up in a few of them, they should not cause you many problems coming out. Then again, there are quite a lot of water hazards to balance things up so it definitely makes for an interesting day out.
If you are spending your golfing holiday in Spain with us, you will love this course and want to play it time and again.
Holes: 18
Length: 6,207 metres
Par: 72
Designer: Cabell B. Robinson
Opened: 2004
Course Facilities: Pro shop, restaurant
Course Address
Santana Golf
Carretera La Cala-Entrerríos, s/n
Valle del Golf de Mijas
29649 Mijas Costa
Málaga – España
Tel: +34 902 51 77 00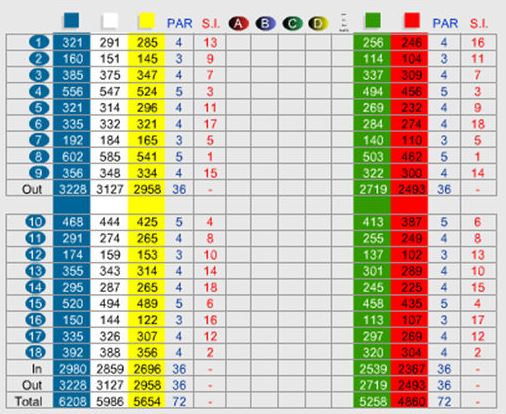 | Dates | Information | Our Price | Public Price |
| --- | --- | --- | --- |
| | Buggies 25 Euros each in 2018 | | |
| 01/01/18 – 25/02/18 | Green Fee 08.00am - 09.00am | 71 Euros | 74 Euros |
| 01/01/18 – 25/02/18 | Green Fee 09.10am - 12.00am | 81 Euros | 85 Euros |
| 01/01/18 – 25/02/18 | Green Fee 12.10am - 13.50pm | 84 Euros | 90 Euros |
| 01/01/18 – 25/02/18 | Green Fee 14.00pm - Onwards | 81 Euros | 85 Euros |
| 26/02/18 – 21/05/18 | Green Fee 08.00am - 09.00am | 73 Euros | 76 Euros |
| 26/02/18 – 21/05/18 | Green Fee 09.10am - 12.00am | 87 Euros | 90 Euros |
| 26/02/18 – 21/05/18 | Green Fee 12.10am - 13.50pm | 99 Euros | 111 Euros |
| 26/02/18 – 21/05/18 | Green Fee 14.00pm - Onwards | 87 Euros | 90 Euros |
| 22/05/18 – 23/05/18 | Maintenance Works | | |
| 24/05/18 – 03/09/18 | Green Fee Including Buggy | 68 Euros | 74 Euros |
| 04/09/18 – 05/09/18 | Maintenance Works | | |
| 06/09/18 – 16/09/18 | Green Fee Including Buggy | 68 Euros | 74 Euros |
| 17/09/18 – 25/11/18 | Green Fee 08.00am - 09.00am | 73 Euros | 76 Euros |
| 17/09/18 – 25/11/18 | Green Fee 09.10am - 12.00am | 87 Euros | 90 Euros |
| 17/09/18 – 25/11/18 | Green Fee 12.10am - 13.50pm | 99 Euros | 111 Euros |
| 17/09/18 – 25/11/18 | Green Fee 14.00pm - Onwards | 87 Euros | 90 Euros |
| 26/11/18 – 23/12/18 | Green Fee Including Buggy | 68 Euros | 74 Euros |
previous post: Santa Maria Golf Elviria