Lauro Golf Alhaurin de La Torre
Course Summary
Lauro golf is a cracking course and one of the most popular golf courses in Malaga.
You will find Lauro Golf surrounded by spectacular nature. The course has 27 holes that can be played in three different combinations, all of par 72.
The picture above, the 27th, for me is the best hole at Lauro 513 meters par 5 looking down over the whole course, Guadalhorce Valley, the port of Malaga and the Mediterranean sea.
Don't lose your drive to the right here or you will have one less ball in your bag and the boys that fish them out will have one more!!.
Lauro golf has a vast array of wildlife, rabbits, ducks, partridges, herons and even eagles on and around the golf course. Plus turtles, frogs and fish in their 14 lakes.
The clubhouse at Lauro is in the style of an old Andalusian Cortijo. It has great facility's, restaurant, changing and locker rooms, pro shop and a lovely terrace for a beer after your round.
Lauro golf also has a swimming pool, padel tennis courts, lawn bowls and an equestrian centre.
Facilities
Clubhouse
Driving range
Putting green
Golf academy
Swimming pool
Equestrian centre
Pro shop
Changing rooms
Course Details
Hole 1 is a very easy start, long iron of the tee carrying over the lake and then an easy wedge to the large elevated green.
Hole 2, a par 3 of 132 metres is a very easy hole, with bunkers left and right of the very large green with a bank to the right and rear that will kick your ball onto the putting surface.
Hole 4 is a par 3 where you may find it difficult to reach the green in one shot as the green is greatly elevated from the tee.
If you are a big hitter the 9 and 18 have lakes around 200 meters from the tee so a long iron or rescue maybe the choice here. Or if you are feeling heroic try and smash it straight over and onto the green. Best of luck!!.
Hole 13 is one of the hardest at Lauro Golf. It's a par 5 measuring 573 metres. Out of bounds will be found down the right of the fairways and scrub-land and trees to the left.
Holes 19 to 27 are by far the easier 9 at Lauro with wide fairways, little water but it does play longer.
It starts with a par 5 of 470 metres off the whites 3 easy hits and you are on but watch the many bunkers surrounding the green.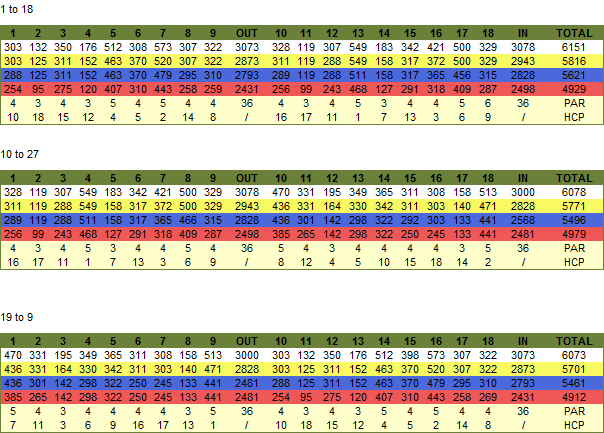 By booking your green fees with Golf Breaks in Spain, you can save on every round of golf. But the savings do not stop there! While you are here, why not hire your golf clubs with us as well? We offer club hire from just €15 per set and can deliver your golf clubs on the Costa del Sol, directly to Malaga airport or your holiday accommodation.
Course Facts
Holes: 27
Length: 1-18 White (6,151 metres), 5,816 metres (Yellow), 5,621 metres (Blue), 4,929 metres (Red)
Length: 10-27 White (6,078 metres), 5,771 metres (Yellow), 5,496 metres (Blue), 4,979 metres (Red)
Length: 19-9 White (6,073 metres), 5,701 metres (Yellow), 5,461 metres (Blue), 4,912 metres (Red)
Par: 72
Designer: Falco Nardi Batini
Opened: 1992
Course Facilities: Driving range, putting greens, golf academy, paddle tennis, lawn bowls, equestrian centre, swimming pool, 3 restaurants, bar, trolley and buggy rental, changing rooms, pro shop, parking
Course Address
Lauro Golf
Cortijo El Paredón
Carretera de Málaga a Coín A-404, Km14
29130 Alhaurin de la Torre
Málaga
Tel: +34 952 41 27 67
Green Fees
Dates
Information 1 in 8 Free
Our Price
Public Price
2023
17/04/23 – 11/06/23
Includes Shared
Buggy
76 Euros
85 Euros
12/06/23 – 03/09/23
Includes Shared
Buggy
67 Euros
75 Euros
04/09/23 – 01/10/23
Includes Shared
Buggy
76 Euros
85 Euros
02/10/23 – 03/12/23
Includes Shared
Buggy
93 Euros
108 Euros
04/12/23 – 31/12/23
Includes Shared
Buggy
76 Euros
85 Euros
Get a Quote
For further information and availability of this offer, please fill in your details below and we will get back to you as soon possible.