Located just a five minute drive away from Fuengirola, you will find one of the most popular golf courses to play here on the Costa del Sol.
Designed by the famous Robert Trent Jones Snr, Mijas Golf comprises of two superb courses of which are Los Lagos and Los Olivos.
Los Lagos was the first course to be built in 1974, followed by the Los Olivos course in 1984. Both courses were designed with Robert Trent Jones Snr' personal design philosophy of "Difficult par, Easy bogey" in mind.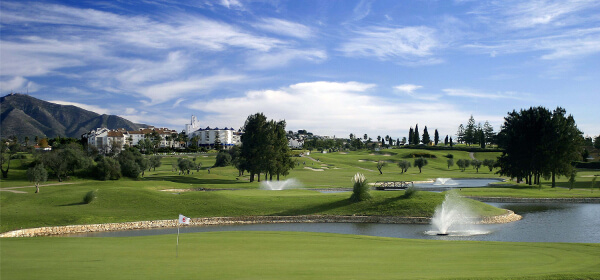 Los Olivos
The Los Olivos Course has undergone extensive regeneration in recent years to bring the course up to USGA requirements.
The main difference between Olivos and Lagos are the tree lined undulating fairways you will find on Los Olivos compared to the Los Lagos course, which is much more open, but scattered with lakes and sand traps to suck your ball in.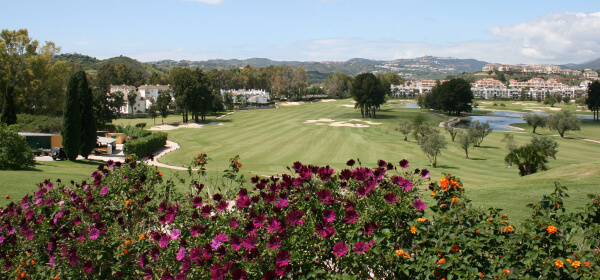 Los Lagos
This course is the longest of the two. In 2012 the course was closed for one year and underwent a full makeover, widening fairways, adding new streams, lakes, bunkers plus installation of a state of the art watering and drainage system, which allows the course to be played in all weather conditions.
The first is a cracking par five, if you get a great drive away!! (slightly down the left) you will be able to have a bash at reaching the green in two.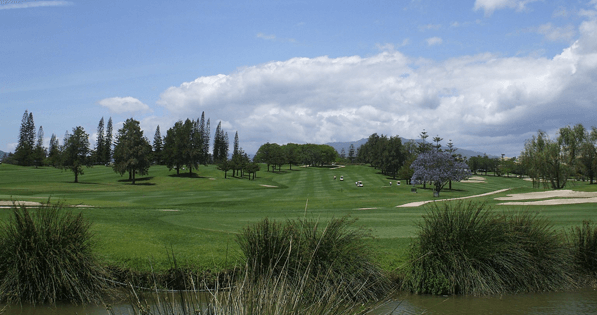 This course is very open and unless you find one of the many lakes you will struggle to lose a ball. There is very little rough to be found anywhere, but don't let that fool you into thinking this is an easy course, as it plays long!!
Holes: 18
Length: Los Lagos – 6,367 metres (White), 6,007 metres (Yellow), 5,148 metres (Red)
Par: 71 – Los Olivos – 5,875metres (White), 5,588 metres (Yellow), 4,926 metres (Red)
Par: 71
Designer: Robert Trent Jones Snr
Opened: Los Lagos 1976 – Los Olivos 1984
Course Facilities: Covered driving range, large chipping green, large putting green, practice bunker, buggy hire, hand and electric trolleys, golf lessons, restaurant, large car park, rental lockers, changing rooms with showers and pro shop.
Course Address
Mijas Golf Internacional
Avenida Louison Bobet, 1-3-5
29650, Málaga
Spain
Tel: +34 952 47 68 43
Los Olivos
Dates
Information
Our Price
Public Price
All Year
1 in 8 Free
01/01/18 – 31/01/18
Winter Offer
with Shared Buggy
55 Euros
58 Euros
01/02/18 – 18/02/18
Buggy 35 Euros
62 Euros
73 Euros
19/02/18 – 30/04/18
Buggy 35 Euros
72 Euros
83 Euros
01/05/18 – 13/05/18
Buggy 35 Euros
62 Euros
73 Euros
14/05/18 – 23/09/18
Summer Offer
with Shared Buggy
55 Euros
58 Euros
24/09/18 – 18/11/18
Buggy 35 Euros
72 Euros
83 Euros
19/11/18 – 30/11/18
Buggy 35 Euros
62 Euros
73 Euros
01/12/18 – 31/12/18
Winter Offer
with Shared Buggy
55 Euros
58 Euros
Los Lagos
Dates
Information
Our Price
Public Price
All Year
1 in 8 Free
(not in low season)
01/01/18 – 31/01/18
Winter Offer
with Shared Buggy
61 Euros
65 Euros
01/02/18 – 18/02/18
Buggy 35 Euros
72 Euros
80 Euros
19/02/18 – 30/04/18
Buggy 35 Euros
82 Euros
90 Euros
01/05/18 – 13/05/18
Buggy 35 Euros
72 Euros
80 Euros
14/05/18 – 23/09/18
Summer Offer
with Shared Buggy
61 Euros
65 Euros
24/09/18 – 18/11/18
Buggy 35 Euros
82 Euros
90 Euros
19/11/18 – 30/11/18
Buggy 35 Euros
72 Euros
80 Euros
01/12/18 – 31/12/18
Winter Offer
with Shared Buggy
61 Euros
65 Euros